Hands for Hunger, a nonprofit organization, works everyday towards achieving their mission; the elimination of unnecessary hunger and the reduction of food waste. Caribbean Bottling Company (CBC), the local producer of Coca-Cola, is also committed to this cause, making regular donations of beverages which in turn supports Hands For Hunger's growing network. Once again this year CBC is showing their commitment to this cause by supporting Hands For Hunger's largest fundraising event, Paradise Plates. CBC's cash donation is coupled with a beverage donation which will be used for the event's volunteers and organizers, as well as during the volunteer training sessions leading up to the annual fundraiser.

"Caribbean Bottling Company's commitment to the fight against hunger is exemplary" says Zeleka Knowles, Executive Director for Hands For Hunger. "Since Hands For Hunger's inception, CBC has made consistent beverage donations that we have distributed to a growing network of 14 social services agencies to meet the needs of those who face chronic hunger in our community. CBC's generosity as a donor and supporter of our programs and special events is far reaching and sincerely appreciated."

"Our commitment to the fight against hunger is evident in our year round support of programs like Hands For Hunger, in the form of both financial and beverage donations" Cara Douglas, Marketing Manager CBC explains. "We are proud to support both the Paradise Plates fundraising event, and Hands For Hunger as they fight these epidemics of food waste, and unnecessary hunger, that haunts our country."

Paradise Plates, a unique fundraiser, is an evening of gourmet food, wine, beer, and cocktail tasting, complemented by an assortment of live entertainment, and a thrilling live and silent auction. This annual fundraiser will be held on October 3rd, 2015 at the Atlantis Grand Ballroom, tickets are currently available for $175. Please contact Hands For Hunger for purchasing information: 327-1660 x 241 or email tickets@handsforhunger.org.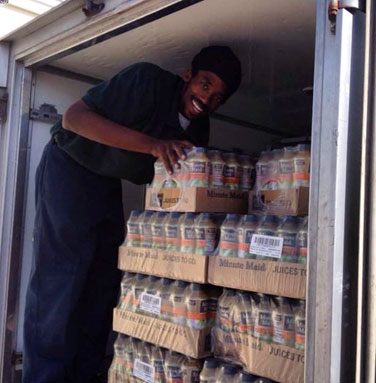 Hands For Hunger employees off-loading a donation of Minute Maid Orange juices donated by Caribbean Bottling Company.