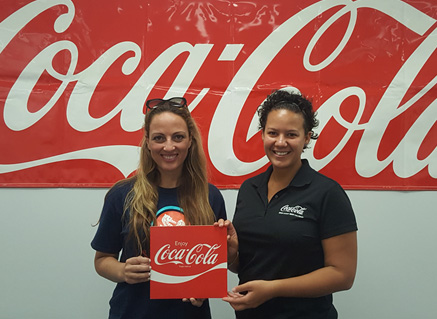 Photo (L-R): Dr. Michelle Major, founder of the Seahorse Institute; Cara Douglas, Marketing Manager Caribbean Bottling Company.
In the Month of April Caribbean Bottling Company (CBC) the local producers of Coca-Cola products, launched its first Autism Awareness promotion in support of Autism Awareness Month. The promotion was designed as a give-back based on CBC's sales of Coca-Cola Zero Sugar. For each case of Coca-Cola Zero Sugar sold during the month April, CBC committed to donating to the Seahorse Institute. The campaign was launched in New Providence & Grand Bahama.
Dr. Michelle Major, Director of the Seahorse Institute, expresses gratitude to the company by saying: "Seahorse Institute is very proud to be a partner of The Caribbean Bottling Company. Their dedication and passion to support the growth and development of children with Autism and Special needs is remarkable! The support from this campaign will allow our students to be able to get the training and materials they require. The Caribbean bottling team is setting the bar for socially responsible corporations in The Bahamas."
"In February D. Major, and her associate Andi Stranchan, gave us a tour of their facility, introducing their students, showing us their workbooks, and lessons," explained Cara Douglas, Marketing Manager at Caribbean Bottling Company. "Needless to day from that time on we were invested in working with Dr. Major and her team."
Douglas continued, "We were challenged to determine how best to increase awareness of the organization, get the community involved with the cause, and assist in fund raising. We are very proud to report that we were able to accomplish all of this for the institution with our month long Coca-Cola Zero Sugar giveback campaign, with a $7,000 donation! We would also like to say a heartfelt THANK YOU to DigiPrint & Signs for donating the printed materials that supported the campaign."
CBC staff also showed their support, by purchasing t-shirts from the Seahorse Institute to show their support doing the month of April.
Seahorse Institute is a Bahamian nonprofit organization founded by Dr. Michelle Major, an internationally acclaimed expert in the field of Autism Spectrum Disorder (ASD). Seahorse Institute provides intensive multidisciplinary intervention for individuals with Autism Spectrum Disorder, Down syndrome, Intellectual Disabilities, language Disorders and related behavioral challenges. Autism is a spectrum disorder, a complex neurobiological disorder characterized by varying degrees of impairment in communication skills, social abilities and repetitive behaviors.
Show support for and help bring awareness to the growing numbers of individuals diagnosed with Autism. If you would like to help visit www.seahorseinstitute.org or Contact at (242)676-6780.