The Northeastern Division is victorious in winning the 8th Annual Sprite Basketball Tournament during the Royal Bahamas Police Force Summer Camp.

In a 80 - 71 victory the Northeastern division wins the overall 8th Annual Sprite Basketball Tournament Championship game to the Western Division. For the eighth year Caribbean Bottling Company (CBC), local producer of Coca-Cola products, partnered with the Royal Bahamas Police Force to bring together the nine districts of New Providence in the annual Sprite Basketball Tournament. For the past four weeks young men from across the island worked together in teams to win the coveted title of "Sprite Basketball Champions", while learning new skills in a friendly, safe environment.

"Over the past eight years the Sprite Basketball Tournament has become a highlight of our Summer program. This program not only allows us, as the police body, to pass on valuable team building and professional skills to young men, but it also helps us to foster relationships with these young men, which is invaluable" says Inspector Johnson, of the Royal Bahamas Police Force. "Without CBC continued support in organizing and financing this entire program, none of this would have been possible."

"The Sprite Basketball tournament was created by CBC as a way to offer support to the neighborhoods across New Providence that we serve," Cara Douglas, CBC Marketing Manager explains. "Each of the individual districts were looking for corporate support for summer events in their areas, and we saw a great opportunity to bring the districts together around a positive event, basketball. CBC rightly believed this would foster a deeper relationship between the young men, their communities, and the police department. This tournament is a safe and supportive environment for young men to participate in each summer, and we are so proud to continue to support it with the Royal Police Force."

The Northeastern Division came out the victors of this year's tournament with an 81 – 71 win over the Western Division team. Terell Butler from the Western Division was awarded the Sprite Sportsmanship Award, and Kenneth Johnson was named the Tournament's Most Valuable Player. Each player in the Tournament received a Sprite gift bag for their participation, while the winning teams walked away with medals, a case of Sprite soda, and an Acer Tablet or Sports Center Gift Card, for the first and second placed teams respectfully.

Royal Bahamas Police Force Officials pose with the Western Division (2nd place winners) Sprite Basketball Team, and Caribbean Bottling Reps.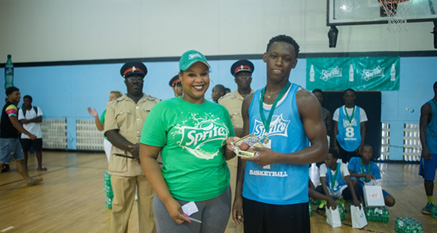 Sasha Pratt, CBC Marketing, presents the MVP award to Terell Butler of the Northeastern Division Sprite Basketball Team.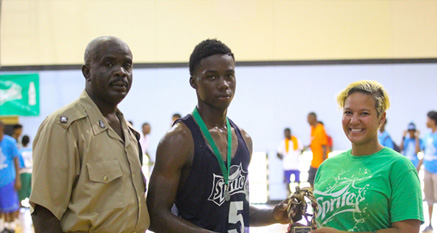 Cara Douglas, CBC Marketing, presents the Sprite Sportsmanship Award to Kenneth Johnson of the Western Division Sprite Basketball Team.