Youth tennis, basketball, swimming and soccer teams get an extra boost from Coca Cola Bahamas

Research has found that in addition to improving physical health among the youth, sports also plays a primary role in positive youth development. This development includes improved academic achievement, higher self-esteem, fewer behavioral problems, and better psychosocial behavior. For these reason Caribbean Bottling Company (CBC), local producer of Coca-Cola products has been a consistent supporter and sponsor of youth sport initiatives.

"When United FC thought about partnering with companies we looked to select one who was committed to building communities, and interested in youth develop. With this in mind immediately Caribbean Bottling Company was at the top of our list," says Samuel Thibaud, Coach and President of the United Football Club. "After that it was simply identifying which of their products connected most with our parents and players. Powerade is that brand. Meaningful partnerships are not by chance, they're by choice."
In the past two months CBC has made substantial sponsorships and donations to the United Football Club, an inner city focused youth soccer club, SWIFT Swimming Open Water Swim, Tabernacle Baptist Thanksgiving Basketball Tournament, and the Aderlade Youth Tennis Club.

"SWIFT Swimming Grand Bahama is grateful to have the support of Caribbean Bottling Company," said Coach Andy Loveitt. "Powerade is a favorite among our swimmers and so they are extremely excited to be featuring the sports drink at our swim meets this season. Whether it's little ones just learning to swim or our best Bahamas National swimmers, all of them benefit from these contributions and we commend Caribbean Bottling Company for investing and believing in our youths – particularly our swimmers."

"From the court, to the field, to the pool, team sports help children across our country to learn essential skills, while contributing to positive development and socialization" says Cara Douglas, Marketing Manager at CBC. "As our country grows it is important that we encourage those working towards positive youth development, and support them however possible. We are proud to be able to assist these programs."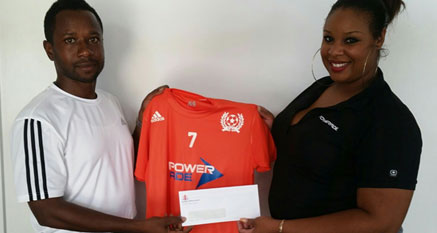 United Football Club President Samuel Thibaud being present a sponsorship check from Sasha Pratt, Marketing Assistant – Caribbean Bottling Company.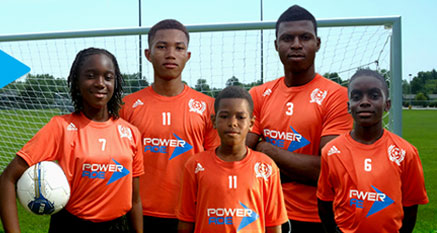 United Football Club members wearing their new Powerade Uniforms